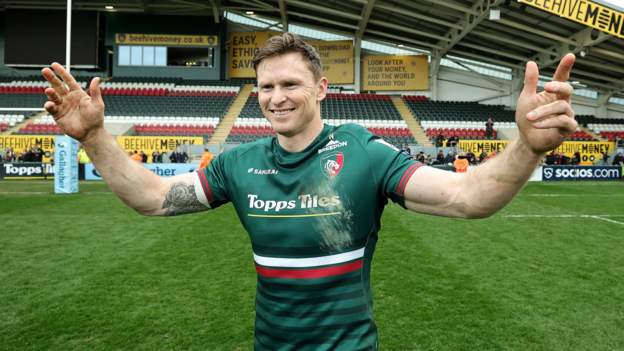 Big-name coach departures, big-name coach returns, upsets, retirements, record crowds, epic finals - and the desperate demise of two famous clubs.
The 2022-23 season was like none other.
And there is still more to come - the Premier 15s is set for a dramatic finish, with the final across the BBC on 24th June.
But in their last episode before a summer break, the Rugby Union Weekly team of former England and Lions player Ugo Monye, the Premiership's record try-scorer Chris Ashton, Harlequins and England scrum-half Danny Care, and BBC rugby union correspondent Chris Jones, looked back on the season that was, and made some early World Cup predictions.
Best moment of the season?
Danny Care: It is going to have to be this man to my left [the retiring Ashton], who scored the perfect hat-trick to get his 100th Premiership try. I'm very proud of him. He's worked hard, he's been banned a lot, but he's had an incredible career and the game will be a sadder place without him.
Ugo Monye: Some of [Newcastle winger] Matteo Carreras' solo tries were sensational, Owen Farrell's drop-goal against Gloucester was also special, while France against Ireland was an insane game in the Six Nations. A word also for Duhan van der Merwe's try against England.
Chris Jones: The Rugby World Cup final in New Zealand between the Black Ferns and the Red Roses was a special game and special finish. Then at the end of April, 60,000 at Twickenham for the Red Roses. That game and the Champions Cup final were my two favourite memories of the season.
Chris Ashton: The Champions Cup final was great. The atmosphere of it all, and the way the game went with La Rochelle coming from 17-0 down, with Ronan O'Gara as coach.
Worst moment of the season?
Jones: The worst thing - by some distance - was losing two clubs, and it could be three with London Irish on the clock. But I think we will see in the next five years a complete re-assessment of how professional rugby works.
Monye: I would like to see the salary cap change, with your ability to spend money based upon your profitability. Someone like Leicester Tigers, who have the biggest gate in the Premiership, they should be able to spend based upon what they are bringing in. It should be based on what you can afford, with a minimum operating standard. But you still need financial regulation.
Shock of the season?
Jones: Remember those two upsets in the autumn, with Georgia winning in Cardiff and Argentina winning at Twickenham. Two results which had huge repercussions, with Eddie Jones and Wayne Pivac both sacked soon after.
Ashton: On that note, Warren Gatland coming back to Wales [was a shock]. I wonder if he even knew it was coming? It's risky going back in when you've had so much success. What happens if it doesn't end well?
On the pitch v off the pitch…
Care: On the field, the game is still delivering. Off the field the game needs to work out how it can be better run and more sustainable. I think men and women are backing it up on the pitch and trying to produce a great product, but off field it needs some work. But there are exciting times ahead, the World Cup is going to be mega.
Who is winning the World Cup?
Care: It's between France, South Africa and England for me.
Ashton: South Africa are the team to beat.
Monye: I agree, South Africa. Their game has moved on significantly in the last year. However, for the first time New Zealand are going into a World Cup as slight underdogs, which never really happens, and that is dangerous.
Care: Ireland are going to have something to say about this!
Ashton: Ireland gone in the quarters…
Monye: That Leinster defeat has changed how people view Ireland's chances….
Care: We can't just write Ireland off because Leinster lost to La Rochelle by one point! How mad is that?
Jones: Saying Ireland could get knocked out in the quarter-finals is not insulting though. They have a massive World Cup hoodoo to overcome, and they will play New Zealand or France in the last eight, if they even get there, because Scotland will mean business.
Care: England will be in the semi-finals, and then you are just two games away.
Jones: There is a chance there will be a surprise finalist from that side of the draw, because it is very slanted.
And finally… the best podcast guest of the season?
Monye: I loved sitting down with Finn Russell during the Six Nations, and Dan Biggar during the autumn. Having all four directors of rugby in one room before the Premiership semi-finals, chatting to each other and having a laugh, was also excellent.
Care: Who was better out of Finn or Dan?!
Monye: They were different!