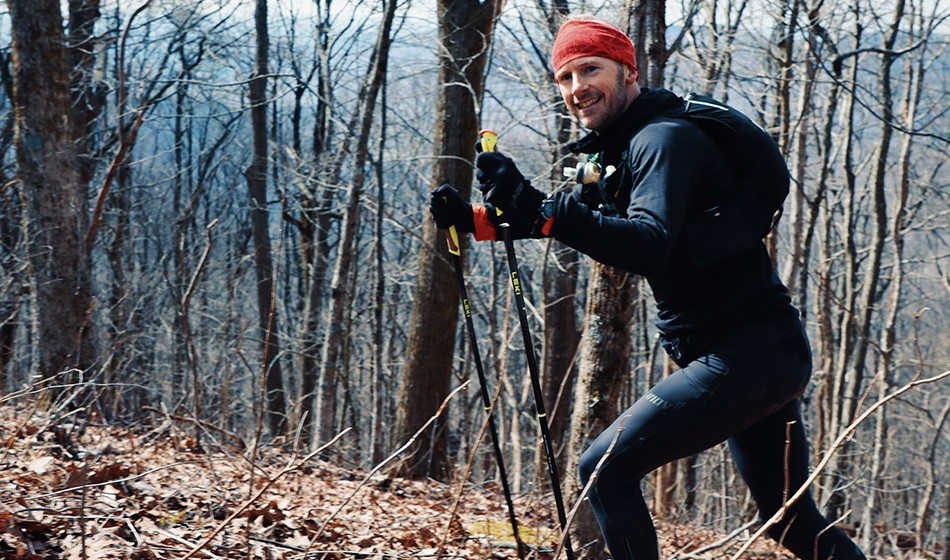 It's an event of just 40 runners which takes place in Tennessee woodland and was inspired by a prison break, so why has the Barkley Marathons captured so much attention? Adrian Stott reports
In the world of ultra running, the Barkley Marathons in Tennessee has developed an almost cult-like mystique. First officially run in 1986, the profile of the event, which takes place in Frozen Head State Park and was inspired by a prison break, grows every year – yet the size of the field hasn't.
The 2023 staging took place last month and sparked intense chatter throughout the global running community – quite a trick for a challenge which features only 40 runners starting in a small car park in the woods.
To complete the challenge, competitors must cover five loops of a gruelling course which has a total elevation gain of 60,000 feet and event creator Gary "Lazarus Lake" Cantrell claims is around 20 miles – though many believe it be closer to 26. 
On top of that, during each loop – run in alternating directions – the participants visit checkpoints where there is a hidden book from which they must tear out numbered pages and return them to Cantrell. Only 17 people have managed to complete the task in the history of the event. 
Among those taking on the Barkleys this year were British ultra athletes Damian Hall and Jasmin Paris. Hall, an ambassador for inov-8, completed four laps while Paris made it through three. 
It is an intense experience unlike any other and seems to generate as much interest as the larger corporate events like the Ultra-Trail du Mont-Blanc (UTMB), which features nearly 10,000 entrants in a week-long festival of eight races.
Can you describe the start of the Barkleys compared with UTMB?
Damian Hall: The Barkleys is an almost intimate feeling. It just feels like a few friends have gathered together at a car park in the woods to go for a run. UTMB is so different, with thousands of runners and supporters lining the streets, all the commercial infrastructure of an urban location and music blaring out getting everyone too excited. I like the buzz at UTMB but it's so different.
Jasmin Paris: I think the same kind of feeling. I prefer the more intimate feeling at the Barkleys versus the UTMB. UTMB is exciting, but the Barkleys is just a different challenge.
What sort of feeling do you get when you're out on the course at either event? 
JP: At UTMB, you're rarely alone, which is odd for a race of that length. There is usually someone in front or coming up behind you, or there are spectators around. Even in the middle of the night there can be people with cowbells and an accordion on the top of a mountain. You don't have much time to get lost in the loneliness, whereas the Barkleys is different. In the first loop, you might be around people but the chance of being with people is slim. At the Barkleys, it's really quiet and still, there's lots of time for you to think your thoughts as you're racing on your own.
DH: The Barkleys is a much quieter, lonely experience. At UTMB, I've loved the crowd stuff and they have been motivating to me at times. The Barkleys is harder in that respect because there's almost no-one there to cheer you. It's quite a pure experience. 
Compare finishing the UTMB and the Barkleys finish camp.
DH: The bit that stays with me is finishing the fourth loop at the Barkleys, knowing I would have time to start on a fifth. I just felt supported by people like Jared Campbell, the three-time finisher who was there waiting to fist-bump me. Honestly, it was like a dream. There were maybe 20 people at the absolute most. Very intimate. UTMB, with all the razz and music and people lining the streets, is so different and I like it in a different way.
JP: When I finished the UTMB, I was on that last summit and there was a massive storm and everybody disappeared. So there weren't very many people there at all. I didn't get that whole "running in through crowds of people" experience. I preferred the Barkleys finish. That race tests you in so many different ways. UTMB is a test of your running and racing ability. The Barkleys is testing you on lots of levels, especially the ability to push through when it gets really hard on your own.
As Damian said, there won't be that many people there but they're connected to you in some way and understand what you have been through. You have this affinity or shared experience that brings you close to people. I feel like, at the Barkleys, almost everybody that's there waiting at the finish line has been through what you went through in some way. It's so unique and different, it gives you this common ground that's difficult to find in life elsewhere.
I think when people run the UTMB they do feel something of that when they finish. A common feeling of finishing a big effort. At the Barkleys, that's magnified simply because the outside world doesn't understand what it is to run that race.
Which is the more challenging, UTMB or the Barkleys? 
DH: Oh, it's got to be the Barkleys. It was the mental focus you need. At UTMB you can largely switch off and you don't have to do too much thinking. At the Barkleys, you have to be mentally alert all the time. The mental part is so hard, which is probably where I failed. Sixty hours of concentrating is huge. The terrain, too, as it's slow which makes it tough. 
JP: I agree it has to be the Barkleys. You only have to make a small mistake and the consequences are pretty huge. On my last loop, I made a small error at the start of my descent that meant that I ended up in a completely different line and I wasted a lot of time, then I hit the stream and I didn't know which way to go.
You're both involved with the Green Runners and looking at ways runners can reduce their carbon footprint. When you look at the Barkleys and then the UTMB, do you feel organisers care about sustainability? Or is the Barkleys like a local fell race where you turn up in a car park and you just put £2 in a Tupperware box?
JP: That's exactly what the Barkleys feels like and it makes the race's carbon footprint very low.
DH: With the caveat that I have just flown my first flight in four years, I think a lot of races, whether it's deliberate or not, don't seem to understand that the biggest element of their carbon footprint, sometimes 80 or 90 per cent, is the participant travel.
While getting rid of plastic bottles is good – and UTMB were one of the first major events to start encouraging bringing your cup or bottle and looking after the trails and the ecology – they're not nearly as worthwhile as trying to lessen emissions from travel, especially if flights are involved.
If races could incentivise travel by giving a discount entry for train or car travel that would be nice. Runners can also assess if there is an alternative to flying to an event.
JP: Another point I'd raise is that I understand that the UTMB system for getting an entry is that you have an increased chance of getting in the lottery if you've collected running stones. These are acquired by running other UTMB series races all across the world. That's one of the reasons I don't want to run the UTMB again, at least not until that changes.
I don't want to support a system where they're incentivising people to travel the world for multiple races. They might be exciting races, but I think we should be trying to focus on being more selective and travelling less. The Barkleys isn't asking you to fly around the world to do different races to get in as part of their race series.