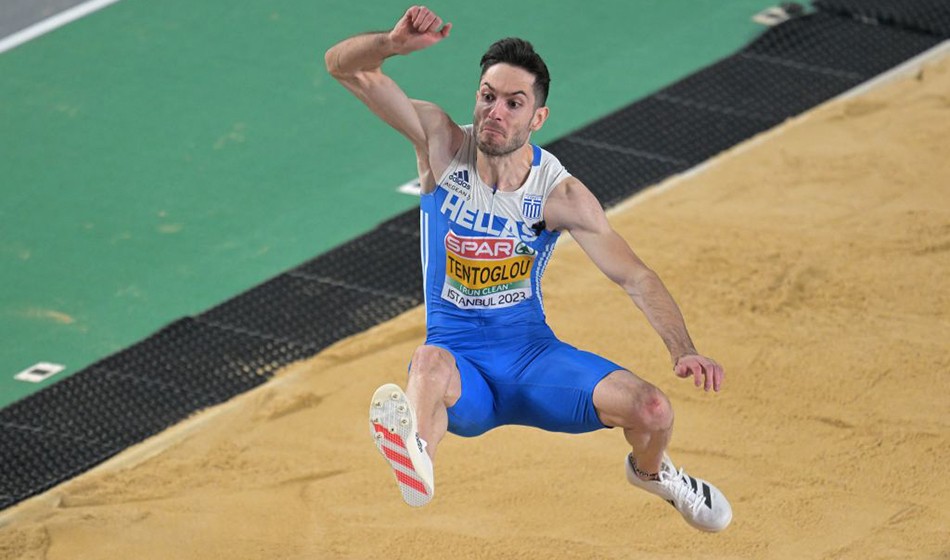 On Sunday, March 5, at the European Athletics Indoor Championships in Istanbul, Greece, Olympic champion Miltiadis Tentoglou became the first man to clinch a third consecutive long jump gold. This was thanks to a first-round performance of 8.30 m. The 24-year-old Grevena native kept his flawless record in European competition with that dominant showing; he previously won the outdoor European gold medal in 2018 and the European indoor gold medal in 2021.
Tentoglou won silver at the 2022 outdoor World Championships. He also won gold at the 2022 World Indoor Championships by setting a Greek indoor record of 8.55 metres. This distance places him sixth on the world indoor all-time list. His outdoor personal best is 8.60 metres. In this write-up, we take a trip back to the champion's roots. We discuss his beginnings as an athlete, his achievements, and his impact on youths in Greek society.
A star was born from his first steps on the long jump

Miltos Tentoglou was born on March 18, 1998, in Thessaloniki, and spent his childhood and teenage years in the city of Grevena. He grew up wanting to be a MotoGP rider, a professional surfer and a parkour expert. However, after Evangelos Papanikos discovered him, he began training, and when his skills in the long jump improved, he realised that the sport would take priority in his life. He left Papanikos's mentorship and joined Pomashki after moving to Athens, and soon enough, Miltos won the World Indoor title, among other titles.
Tentoglou's first international athletic competition was the 2015 World Under-18 Championships in Cali, Colombia, where he finished fifth with a leap of 7.66 metres. In May 2016, he broke the Greek national U20 record with a jump of 8.19 metres at Kalamata. Two months later, he came in second, winning the silver medal at the World Under-20 Championships in Bydgoszcz, Poland, with a leap of 7.91 metres.
The Greek athlete set a national U20 record of 8.30 metres at Patras's 2017 Greek Athletics Championships. He then went on to win the European U20 Championships in Grosseto, Italy, in July by leaping 8.07 metres. From there, Miltiadis continued to rack up well-recognised titles, the most important being his victory at the 2020 Summer Olympics in Tokyo. He set a new Greek indoor record of 8.55 metres in the 2022 World Indoor Championships in Belgrade, Serbia, which won him the gold medal.
Miltos' early achievements assured his future take-off
As a beginner, Milto's odds of winning were high since he had yet to prove himself. However, after coming out on top in different competitions, these odds dropped significantly, and he moved from being an underdog to a hard favourite. Nevertheless, you can still find good odds for his events at NonGamstopSites brands.
Tentoglou currently holds the record with five straight European titles. At the 2018 European Championships in Berlin, he won gold for Greece, making him the country's youngest male continental champion. His second time was in 2019 indoors in Glasgow; the third was in 2021 at the indoor event in Torun.
The fourth European title was won in Munich outdoors in 2022, and the fifth European title was won in Istanbul in 2023, and he made history by becoming the first man to win three consecutive European indoor long jump titles. Only one other athlete, Hans Baumgartner, has won three European indoor titles, but they weren't straight.
How he trains and what the future holds for him
Before shifting to the long jump, Tentoglou practised parkour, a sport that required flexibility and precision jumping. It was in the act of parkour that Evangelos Papanikos was drawn to him. Thanks to the demanding physical abilities of parkour, transitioning to the long jump wasn't tricky. According to Georgi Pomashki, who coached him after Papanikos, Tentoglou was easy to train. The coach noted that the Greek athlete, who is termed the king of Europe regarding the long jump, didn't need to practise a jump ten times to get it, adding that Tentoglou's talent was "a gift from God."
Regardless of his rare talent, Tentoglou still disciplines himself to train as much as possible. He even noted that he's not immune to failure. The Greek athlete also sets jump goals for himself and tries his best to achieve them. For instance, after capping his third consecutive long jump medal, he noted that he was unhappy with himself. This was because he had aimed for 8.50 metres but ended with 8.30. He attributed the below-par performance to the jump being held too early in the morning.
Tentoglou debuted in the athletics world early and has been soaring ever since. Georgi Pomashki pointed out that the Greek long jumper is at the top, and he has come to stay. Pomashki added that he does well between 60% and 70% in different areas of the sport, but for this season, they were working on one major component: speed. With a better rate, the coach hopes the athlete will record jumps as long as 8.70m.
Tentoglou is a real influence on Greek society
The grand champion has done much in his young 24 years. He is the sixth-best long jumper of all time and has won an Olympic gold medal and European championships, among other things. Still, he retains a calm composure, stating that he doesn't think he has achieved anything exceptional. He noted that everyone has their strengths and that the things others excel at are sometimes more challenging or consequential.
Besides bringing multiple wins to Greece, he serves as an inspiration to upcoming athletes. He is also known for his compassionate and relatable personality. After returning from France, where the Greek Olympian achieved this year's world record, his coach said his shoes would be auctioned off. The proceeds will then be sent to children in Turkey impacted by the recent disasters.
These shoes were the ones he wore when he made his 8.40-metre jump, which the World Athletics federation cancelled, saying the pair were banned for long jump. Days after this jump was cancelled, he went to Lievin, France, and on his fourth jump, he landed at 8.41 metres, once again setting the world record for the year.