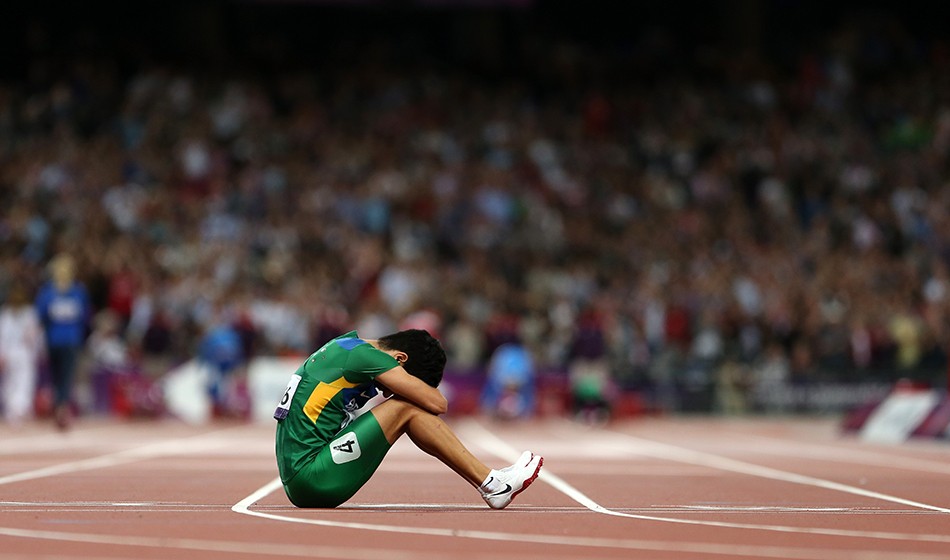 AW columnist Verity Ockenden shares her experiences of being sidelined and explains that how someone responds to a setback can have a big effect on how quickly they are up and running again
There is an art to approaching injury. I've had my fair share of stresses and strains over the years, but currently it's a spot of sciatica that has come along to complete the trio in true alliterative style. Like many a previous injury, it took a frustratingly long time to diagnose correctly and the healing process has sometimes taken one step forward and two steps back. Still, the more experience I gather of this inevitable aspect of elite athletics, the more adept I get at handling it, and here is what I've learnt.
Facts are important. It is imperative to understand the true what and why of the injury as quickly as possible, if I am not to waste precious time on misdiagnosis rather than effective treatment. This can create a maddening puzzle for any athlete, coach or therapist since every injury has its own peculiarities and can present differently, depending on the individual.
I personally struggle to describe physical sensations and levels of pain accurately, so choosing a set scale to stick to and keeping a detailed diary in which I record what I am experiencing as immediately as possible helps with that. Otherwise I tend to waste too much time continuing training when I should have stopped earlier.
Though it pays to focus on such factual elements of the healing process, managing my feelings well is just as important. We all hate getting injured because running, jumping and throwing at our best is the fun part of Track and Field, while crummy rehab routines are, well, boring. Maintaining the desire to do this kind of work when the rewards are not as visible or close at hand as usual is difficult, particularly when the sadness of lost opportunities depletes morale.
It takes discipline to train at full capacity every single day when I am fighting fit, but it takes even more of it to stay motivated when I am not seeing the results that I strive for.
Nobody has a favourite type of injury, but if I had to choose, I'd always take the one with the clearest timeline. It takes four weeks? I can get my head around that. It's those without a predictable trajectory on which to fix my sights that are the worst.
Just like in competition, focusing on series of goals is an important aspect of planning recovery. Trusting and believing in the work I am doing is also crucial. I have been reprimanded on occasion for doing "il giro delle sette chiese!" [the tour of the seven churches] when it comes to finding cures for things, without having the faith to stick to one avenue of treatment.
That's not to say that a thorough exploration of causes and research into treatment options is a bad thing (particularly when I don't have my go-to therapist at hand), or that multiple treatment forms can't work harmoniously together.
However, there isn't much point in going to a doctor or physiotherapist if I'm not going to be honest and open with them about every aspect of my situation, or even adhere to their treatment plan at all.
Often I encounter the same initial stumbling blocks. The first is denial. "This isn't an injury, it's a niggle." I often stubbornly justify training through these "niggles" through comparison to others who never seem to let anything stop them. I fight any reaction to small levels of pain as a sign of the kind of mental weakness that won't get me through tough workouts and tough races, let alone to the top.
What I've come to realise, however, is that the best athletes don't ignore such warning signs, however tiny. They take proactive measures immediately and it is that level of care and attention to detail that allows them to continue training while ensuring an injury doesn't escalate.
Stumbling block number two is pride. With strengthening routines, it is easy to feel humiliated during the first session as my weaknesses get exposed. I've always found this particularly difficult to deal with, specifically for rehabilitation that requires niche exercises in the pool or the gym. I'm not a person who likes to draw unnecessary attention to themselves, or one who deals well with not being naturally good at things.
The horror of some muscle-bound weightlifter watching me wobble around helplessly on one leg like a baby bird, unaware that I'm not a complete idiot without a clue about what I'm doing, was for a long time so cringe-inducing that I would find any excuse not to go.
How my game has changed now! I've always focused on following my strengths, which did at least get me this far, but I know full well that at this point, playing to my strengths will only get me this far. If I want the next level, I need to be okay with being a beginner at a few things, and a bad one at that.
If I want it badly enough, I'll undergo whatever level of shame and embarrassment it takes, and maybe even realise along the way that most of the other people who have also chosen to be in this environment started at the bottom just like me, and they are busy working on their own weaknesses as well. Though the gym is fertile soil for comparison, I now also recognise the common desire to simply better oneself in everyone who goes there, in whichever way suits them.
Last but not least, what I've finally come to understand is that the arrow that strikes me in the heel every single time might be a new arrow but it always comes from the same bow. That is to say, when I fix one wound, all too often I declare victory on that particular battle and forget that, in order to win the entire war, the boring rehab work never stops and it is never time to let down my guard when it comes to injury prevention.
So this time, though the programme might change and different weak spots will come and go, each time heralding different sets of silly exercises, I won't be discarding it as unnecessary as soon as my normal running service resumes.