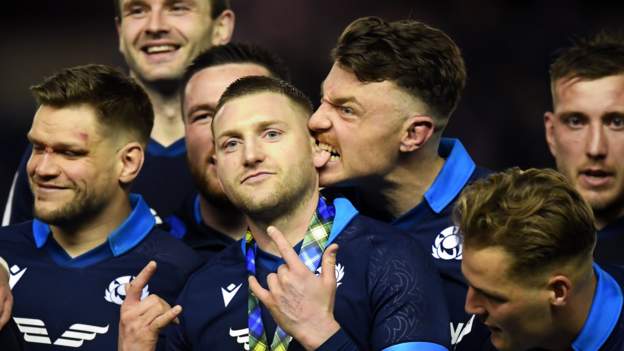 A year ago to the day, Scotland rounded off a disappointing Six Nations with a dismal defeat in Dublin at the end of a divisive week.
It ended with truculent media conferences as coach and captain tried to duck and dive their way through questioning about boozegate - or whatever it was called at the time.
Things look altogether different now. Sunnier. More optimistic. Italy took Scotland to a very dark place in the closing minutes at Murrayfield on Saturday, but they survived and prospered.
They were one defensive slip away from defeat, but held firm, broke out and scored a length-of-the-field try that guaranteed them third place in the Six Nations table behind the world number one and two.
That's as good as Scotland could have realistically hoped for and probably a whole lot better than most imagined when the championship began in early February.
It was an absorbing campaign - two wins in a row at the beginning for the first time since 1996, a new midfield partnership that lit the place up, some tries that were cosmic in their creation, a comeback in Paris that threatened to be something extraordinary - and then that fretful game on Saturday and a long stare into a rugby abyss.
In assessing Scotland's season and what things looks like now that the World Cup is beginning to loom large, there's a bit to get through, so let take it in small steps.
Player of the championship
From Huw Jones and Sione Tuipulotu in the midfield, to Duhan van der Merwe outside, to Finn Russell as magician, Blair Kinghorn as super-sub-cum-hat-trick-saviour, and Richie Gray as the totem of the second-row, there are choices.
Pierre Schoeman takes it, though. How often do props figure on these lists? Schoeman warrants it, big-time. As a carrier, scrummager, defender and breakdown nuisance, he was immense.
Schoeman carried for 65m against the French (no forward on either side made that kind of ground) and made another 65m against Ireland (only Jack Dempsey and James Ryan topped his number). Only Dempsey out-carried against Italy.
Schoeman made 13 tackles against Wales and 16 against England and he never played more than 66 minutes. When he went off against the Irish, things started to go south. The hairy one had a huge championship and has become utterly invaluable.
Try of the championship
We thought we might wait an age to see another one as good as Van der Merwe's first at Twickenham. Actually, we only had to wait 50 minutes.
The signs weren't good in the final quarter. Scotland had kicked out on the full, then butchered an opportunity on the hour, then kicked out on the full again on 73 minutes. They trailed 23-22 with four minutes to go - and found something magnificent.
They'd put in a massive defensive shift to that point, so the energy, accuracy, speed and ambition of that winning try was breathtaking. Attacking up the right, sweeping left, the finish in the corner from Van der Merwe - everything about it was world class.
The redemption songs
Given we already knew how good Tuipulotu and Jones can be, would be it fair to call their excellent partnership a surprise? Probably, yes, because the expectation at the outset was that it would be Tuipulotu and Chris Harris in Scotland's midfield.
Townsend hit on something wondrous when he went down a more attacking road. For both men, it was a redemption.
Tuipulotu had been one of the Edinburgh Six last season, the group who went drinking after the Italy game. He didn't even figure in the 23 against Ireland on the final day a year ago.
Jones' comeback has been a delight. He'd been a cowed and anxious figure at Glasgow under Dave Rennie, then moved to Harlequins and found his mojo again, only to get injured before last summer's tour to Argentina.
The way Jones has fought back and reminded everyone what an exceptional player he is has been one of the great highlights.
The unluckiest man
There's only one contender, a runaway winner. Luke Crosbie was unsung in the victory over England, but his defensive work was terrific and he started again in the Wales game.
Two wins from two - and he was dropped. He didn't even make another match-day squad.
It was harsh on him because of all the men who wore Scotland's seven jersey in the championship (Crosbie, Jamie Ritchie, Hamish Watson), Crosbie looked the most effective in his performance in the Calcutta Cup. Hopefully he'll be back.
Most painful moment
The way Scotland fought back from 19-0 down to 25-21 in Paris was arguably the most impressive hour of their entire tournament. They completely dominated France for vast chunks of time. In their own backyard, the world's number two side looked in deep, deep trouble.
Led by a quite brilliant performance from Russell, Scotland were scaring the life out of the French. With five minutes to go, the visitors were on the front foot, an attacking line-out to come and a home crowd in panic mode.
Whatever went wrong - an overthrow, a bad call, a late lift - they lost that line-out and that was the turning point. From a chance to win or, worse case, a losing bonus point, they conceded late and left town with nothing.
The line-out is one of Scotland's biggest areas of work now. When Richie Gray is there then all is fairly well, When he's not, the thing is a weakness that the best sides will exploit. There's a ton of work to be done there.
Most infuriating moment
When injury robbed Ireland of both hookers and openside Josh van der Flier had to throw into the line-out, that should have been Scotland's cue to take a wrecking ball to Ireland out of touch.
They couldn't do it. When the game was in the melting pot, Van der Flier threw five conservative balls to the front of the line-out and Ireland won it every time. There was no Scottish disruptor, no Scottish voice noising up Van der Flier and trying to put him off.
There was a whole lot of niceness. Niceness was never going to cut it against Peter O'Mahony. Scotland had a chance to mess with Irish heads and they failed to take it.
Russell against Wales
In the second half, when his inspiration was badly needed after a stodgy first 40, the fly-half was a joy. The way he ran the game was magnificent.
Offloading out the side door for a Kyle Steyn try, a cross-kick to Steyn for another. It was a masterclass of inventive rugby.
His assists that day brought his total since the start of the 2022 Test season to 10, more than any other player in the world. How many of the four World Cup warm-up games does Russell play in? As few as possible. The man is irreplaceable at 10.
World Cup on the horizon
It's beyond daunting, the group stage beginning with a Test against the world champion South Africans and ending with a Test against the Grand Slam-winning Irish.
Scotland need to get off to a flyer. They have more chance of catching the Springboks in game one than beating an Irish side they haven't defeated in the past eight attempts.
South Africa have struggled in their opening game of the World Cup three times in a row. They lost to New Zealand in 2019, to Japan in 2015 and struggled to beat Wales by a point in 2011. That's Scotland's main hope. Catch the Boks early.
To do that, Townsend needs fortune to shine down on him. From today to the day he names his 33-man squad, he will pray for a clean bill of health on the injury front.
The loss of any one of Jones, Tuipulotu, Russell, Schoeman, Zander Fagerson and Richie Gray would be a serious issue in the bid to slay the giant.
Absent friends
This was only the second time in a decade that Scotland finished third and they did it without Darcy Graham, Rory Darge and Stuart McInally playing a solitary minute. Grant Gilchrist missed the last two games.
There's not huge world-class depth but there's hope and a feeling that the World Cup can't come quickly enough. Scotland will be considerable underdogs in France - how could they be anything but given the company they'll be keeping - but they're improving and, fully loaded, they'll be dangerous.
They'll take a breather now but before they know it they'll be back into it with the clock ticking down to 10 September in Marseille and that intoxicating meeting with the mighty Boks.